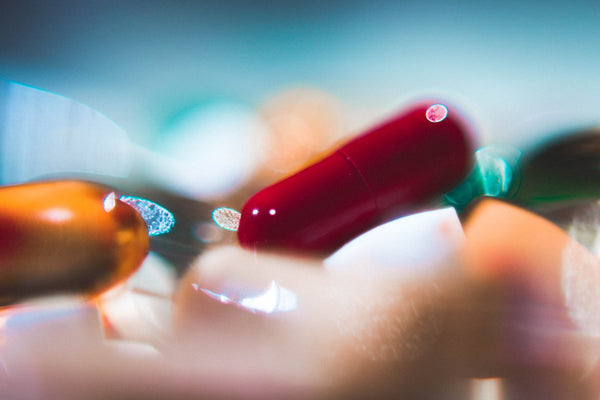 Do Vitamins Work? How are They Absorbed?
Multivitamins are the most popular dietary supplements in the United States, with approximately half of all American adults and 70 percent of people over the age of 65 taking a multivitamin each day. Many have heard about how multivitamins are a good "insurance policy" against nutritional deficiencies resulting from a less than ideal diet, and some people probably figure that multivitamins can't possibly be bad for you.
After all, vitamins and minerals are good for you, so a little extra can't hurt. The thought process is understandable, but not all multivitamins are created equally, and some are not effective at all. No one wants to waste their money on an ineffective product, so it's important to know if vitamins work and how they are absorbed before spending your money on a dietary supplement.
Why do people use multivitamins?
There are many reasons why people take multivitamins, including the multitude of health benefits they offer. Multivitamins provide a host of vitamins and minerals that we were originally supposed to receive from natural whole foods and beverages and deliver them in a convenient package. Our digestive systems were designed to obtain essential nutrients from the foods we eat and the beverages we drink, but many people do not eat enough fruits, vegetables, lean proteins, and whole grains as a result of the Western diet, which is high in processed foods, added sugars, simple carbohydrates, and unhealthy fats. Nutritional deficiencies are common in people with poor diets, even when they are consuming enough calories. The most common vitamin and mineral deficiencies in the United States include calcium, iron, vitamin D, vitamin B12, iodine, vitamin A, and magnesium. Some of these deficiencies affect more than 50 percent of the population, including those who regularly take a multivitamin supplement. Multivitamins are a common tool used to prevent nutritional deficiencies, but their effectiveness varies depending on the quality of the vitamin.  In addition to correcting potential deficiencies, multivitamins can also have the following benefits:
Prevention of birth defects in pregnant women, such as neural tube defects in infants resulting from low levels of folate

Reduced risk of

heart attacks

and death from heart disease

Reduced risk of certain types of

cancers

caused by nutritional deficiencies

Decreased risk of age-related macular degeneration in older adults

Improved

memory

in older adults
How are vitamins absorbed?
The body must properly absorb vitamins in order to be able to use them to carry out important functions. Regardless of whether they are water-soluble or fat-soluble, all vitamins are ultimately absorbed in the intestines. If the intestine is unable to properly absorb the vitamins, a vitamin deficiency can result. There are many different reasons why people may not be able to properly absorb vitamins, including intestinal diseases, excessive alcohol consumption, genetic disorders in transport molecules, and certain drug interactions.
Absorption of water-soluble vitamins
The majority of water-soluble vitamins come from dietary sources, but there are some water-soluble vitamins that the body can make, including niacin, or vitamin B3. The body can synthesize niacin from a combination of tryptophan and vitamin B6. Otherwise, the body must obtain water-soluble vitamins from our diet. Most water-soluble vitamins are absorbed primarily in the small intestine. Water-soluble vitamins dissolve in water, as the name suggests, which means the body starts to process them as soon as they make contact with water in the stomach. Water-soluble vitamins cannot be stored in the body, so any excess intake above and beyond what is required to maintain proper function of the body is excreted through the urine. As a result, overdose of vitamin toxicity is not a concern for water-soluble vitamins.
Absorption of Fat-soluble Vitamins
Fat-soluble vitamins require access to fats in order to be properly absorbed and used by the body. Therefore, it is recommended that fat-soluble vitamins are taken with a meal or near a meal in order to maximize their effectiveness. Fat-soluble vitamins, including vitamins A, D, E, and K, can be stored in the body if excess amounts of the vitamin are taken in. As a result, it is possible to receive too much of these vitamins, particularly vitamin A. Fat-soluble vitamins are absorbed in the small intestine, which incorporates them into mixed molecules with other fats and bile acid. The molecules then enter the cells of the intestinal lining primarily by diffusion, where they are further processed and then dispelled into the lymph fluid. 
Do multivitamins work?
Although it might seem like there is no good reason not to take a multivitamin, the reality is that some multivitamins are not readily absorbed and used by the body due to their chemical composition. As noted above, the body has evolved to absorb and use vitamins and minerals that we receive through our diets, but what happens when those same nutrients come from a supplement instead? The answer to whether or not your multivitamin works depends largely on whether it is a standard multivitamin or whole food multivitamin.
Standard multivitamins
The next time you're strolling the aisles of your local pharmacy, take a look at the dietary supplements and try to count the number of multivitamins available. Standard multivitamins are ubiquitous because they are inexpensive to manufacture and produce. Standard multivitamins use synthetic chemically isolated vitamins, which are absorbed differently by the body than nutrients found in food. Researchers and scientists were unaware of this difference for years because the chemical composition of natural and synthetic vitamins is the same. However, research now shows that synthetic vitamins are less readily absorbed and utilized by the body than those found in food. Therefore, people taking standard multivitamins often end up excreting most of the ingredients in a standard multivitamin, which means you are flushing your money down the toilet. The use of synthetic multivitamins can contribute to nutrient imbalances as well because of how the nutrients are processed. 
Whole food multivitamins
Unlike standard multivitamins, which are produced in a laboratory, whole food multivitamins primarily consist of vitamins, minerals, antioxidants, and other nutrients that come directly from whole foods, most often in the form of dried food concentrates. The nutrients found in whole food multivitamins are usually non-synthetic, non-isolated, natural forms of the vitamins and minerals your body needs. Because these vitamins and minerals are derived directly from real food sources, the body absorbs and uses the nutrients in the same way it would utilize nutrients from your lunch. Whole food multivitamins are typically more expensive than standard multivitamins but represent a better value because the body can actually use the ingredients.
Who should consider taking a multivitamin?
Many people can benefit from taking a multivitamin, but there are some groups that are at increased risk of nutritional deficiency without one. People with certain digestive disorder that impact nutrient absorption, individuals with a small appetite, people who follow a low calorie diet, and people who do not get an adequate amount of vitamins and minerals from their daily diets are considered at increased risk of nutritional deficiency without a multivitamin. People who have had weight loss surgery, including gastric bypass or the gastric sleeve, also should use a multivitamin, as weight loss surgery has been shown to impact the way in which the body absorbs and utilizes certain nutrients. In addition to those mentioned above, the following groups are most likely to benefit from the regular use of a multivitamin:
Pregnant and breastfeeding women: Pregnant and breastfeeding women should take specially formulated prenatal and postnatal multivitamins to support the nutritional requirements that come from assisting the development of a human life. Women at these stages of life typically need to receive higher levels of certain vitamins and minerals, such as folate, in order to prevent birth defects and ensure proper development of unborn and nursing children.  However, they also need to steer clear of receiving too much of certain vitamins, such as vitamin A, which is why it is important to take a specially formulated prenatal or postnatal vitamin.

Senior citizens: Aging plays a role in our bodies' ability to absorb and utilize nutrients from food, which is why people are more likely to have a nutritional deficiency in their golden years. The most common nutritional deficiencies among the elderly include vitamin D, vitamin B12, and calcium and can benefit from multivitamins that contain these ingredients. Taking a multivitamin can help improve cognitive function and memory in older adults who are nutritionally deficient and can also reduce the risk of experiencing age-related macular degeneration. 

Vegans and vegetarians: Some essential nutrients, including vitamin B12, are only found in large quantities in animal-based products. Therefore, vegans, vegetarians, and other people following plant based diets are more likely to experience nutritional deficiencies without careful planning. Vegans and vegetarians are more likely to be deficient in calcium, iron,  vitamin B12, zinc, omega-3 fatty acids, and vitamin D. 
Sources:
http://www.vivo.colostate.edu/hbooks/pathphys/digestion/smallgut
https://www.healthline.com/nutrition/do-multivitamins-work
https://www.hopkinsmedicine.org/health/wellness-and-prevention
https://www.health.harvard.edu/mens-health/do-multivitamins-make-you-healthier 
https://www.sciencealert.com/are-vitamin-pills-good-or-bad
https://www.health.harvard.edu/staying-healthy/listing_of_vitamins
https://www.healthline.com/nutrition/7-common-nutrient-deficiencies